Speaking Program
Need a program speaker?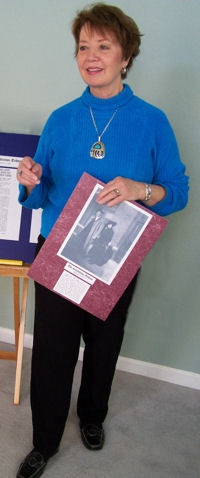 An award winning author, M. Carolyn Steele is available for presentations to church, genealogy, library, writer and reader's groups. Her most popular program, titled, "Capture Your Family's Past," can be tailored to fit the audience.
Click here to see Program Topics
Why consider a program on family history? Because in this world of television and mega-movies with fantastic visual effects, sometimes the best stories are left untold. These are the stories told years ago by mothers and fathers about their parents and grandparents or some distant relative. Soon, they will be forgotten unless we take pen in hand and record the events that helped to shape each family.
Carolyn will show you how to bring that distant ancestor to life again using examples and helpful genealogy tips. She will discuss the value of historical research and encourage each person, regardless of writing ability, to record the stories from his or her past.
Carolyn combines her love of history, writing, and genealogy to inspire others to preserve their own family legends for the generations that follow. The question and answer sessions following each presentation inspired her book, Preserving Family Legends for Future Generations.
In addition to her passion for recording the lives of ancestors, Carolyn reminds us that history lives everywhere, including valued heirlooms. In a program titled, "Trinkets or Treasures," she details the various ways to preserve the story behind such artifacts.
---
Program Endorsements:
"One of the most beneficial opportunities that I have given my genealogy class was when I invited M. Carolyn Steele to be the program guest speaker. She enticed our creative writing juices to resurrect the skeletal bones of our family trees and turn them into real living people for future generations to get to know. Everything you need to know from A to Z, Carolyn covers in her book. No excuses, buy the book, read the tips, and get going. Our ancestors deserve more than cold facts on a family group." June Hurst - Genealogy Class Instructor, Bristow Public Library, Bristow, Oklahoma.
---
"Carolyn brings life and veracity to the past, initiating a respect for our family histories and a sense of continuity and importance to the family structure." Mary Patterson - President of Madalene Women's Club and English Educator - Tulsa, OK
---
"Carolyn's presentation for family historians is captivating and inspiring along with being an intriguing subject for a public library evening event." Kay Jabusch - Library Director - Irene Ingle Public Library, Wrangell, AK
---
"Carolyn's unique and spellbinding approach to recording family legends made a perfect program for 'Primetimers." Jonnie Nelson - Elder, First Presbyterian Church - Tulsa, OK
---
"Carolyn's presentation took shadow to none. So extremely poised, clear in meaning and enunciation. A work of art––more importantly, a work of love." Joyce Cook – Recording Secretary, Laclede County Genealogical Society - Lebanon, MO
---
"Carolyn Steele's presentation at our dinner club has convinced many of us that digging into our ancestors' stories is important as well as exciting. She is an accomplished speaker with a winsome personality." Herb Jelley - Program Coordinator, Kirk of the Hills Dinner Klub - Tulsa, OK
---
"Our Souhwest Tulsa Historical Society members thoroughly enjoyed Carolyn Steele's presentation on preserving family memories! She has been one of the most talked about speakers this year. I've heard from several people who read her book and used it to jump start their own work. That is something I have tried to do for years." Roy Heim – President, Southwest Tulsa Historical Society, Tulsa, Oklahoma
---
For questions or to arrange a program, contact Carolyn at: mcarolyn.steele@cox.net